Last week, week 8 of the program, was our last official week of class. I can't believe how quickly it all went by...I feel like I just got here. Despite the fact that my time in Rome is almost over, I still have a lot of fun things coming my way before I head back to the US. This week is reserved for work on our individual study project (I am focusing on the architecture of the Pantheon, how it was constructed and for what purpose) and next week, week 10 (all quarters at UW are 10 weeks long), we are taking our last class trip and heading off to Capri. On March 13, Sammie and I head to Dublin to visit Michelle and Patrick for five days (can't wait to see you guys!), and then fly to Holland to visit Sam's family for a few days. Lots of adventures left!
Being here has been such an incredible experience. It was so easy for me to adjust to Italian life, and I am grateful for that after seeing so many of my peers struggle with the adjustment. I never really realized before I came here that most of the experience of studying abroad is entirely mental. I suppose I thought that everyone, like me, would be so enthralled with the wonders of Italy that happiness would be endlessly abundant. There have been bumps and trials along the way...missing friends and family, missing the comforts of America that we take for granted, problems with our apartment, broken computers. It is all part of the experience, really, and accepting that makes the whole thing so much more enjoyable. We live in a country that has so many amenities that make our lives "easier": clothes dryers, dishwashers, microwaves, televisions, easy access to internet, cell phones with internet capability, GPS systems. Italian life is so much different. Even though they are a Western industrialized nation (and in my opinion, responsible for some of the best things in life), the typical Italian doesn't have all the beeping gizmos and gadgets that Americans can't seem to live without. It's been liberating, really, to live life in a much simpler way. I love that we walk everywhere. I love that we can lounge outdoors under a heater in the Campo at a cafe and share a bottle of wine in the late afternoon. I love that I can get fresh produce at the Campo market every morning. I love that despite my schoolwork, required school reading, class time and site visits, three papers, individual exploration and a busy nightlife, I'm halfway through my fifth novel on this trip. Despite missing all of you at home, I have never once had the desire to leave this place. I am beyond grateful to have had this wonderful experience and I hope that you've enjoyed sharing a piece of it! :)
All mushiness aside, new things to report. Yesterday Sam, Ashley-Rose, MacKenzie and I went to see the Pope!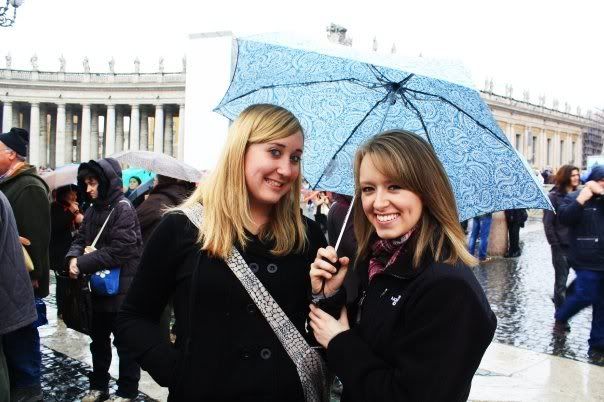 Me and MacKenzie in Vatican City
Ciao, Pope!
I'm going to work hard on my paper this afternoon, have lunch and shop a little with the girls and hopefully have some fun tonight! Wednesday is MacKenzie's birthday so Sam and I are busy planning something special for her. More pictures to come!
Ciao!