Ciao tutti! I know I've slacked this week on updating you. Here are 2 more pictures from Venice that my friends took: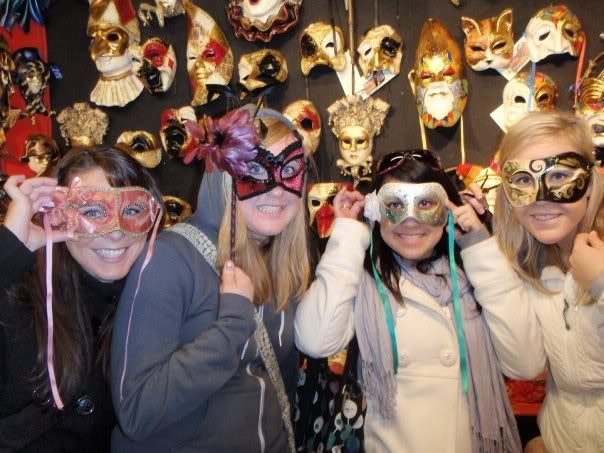 A-Rose, me, Sam, and Erin trying on masks. This was apparently the store that supplied the masks for the movie "Eyes Wide Shut." I've never seen the film but it was interesting nonetheless. All the masks in Venice are really pretty, but I still think they are inherently creepy.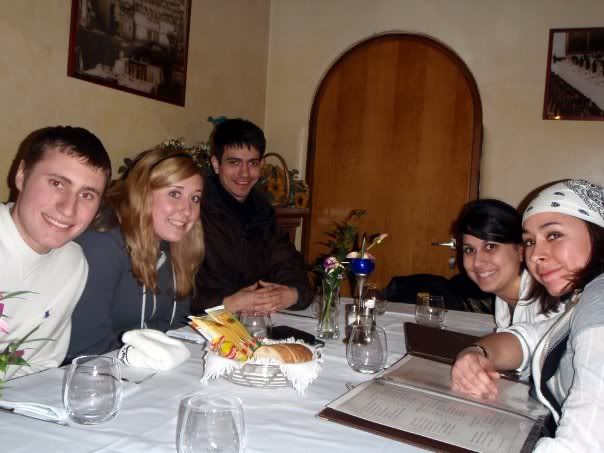 Mike, me, Reese, Sam, and Brandy at the group dinner in Padua.
This week we studied romanticism and the Risorgimento. For romanticism, we focused mainly on the poets John Keats and Percy Shelley. Keats was a 19th century English poet who, after contracting tuberculosis, spent his last days in Rome. We visited the apartment he lived and died in, which is right next to the Spanish Steps. The building is now a museum dedicated to both Keats and Shelley.
Keats-Shelley museum. The museum houses one of the largest collections of romanticism poetry in the world.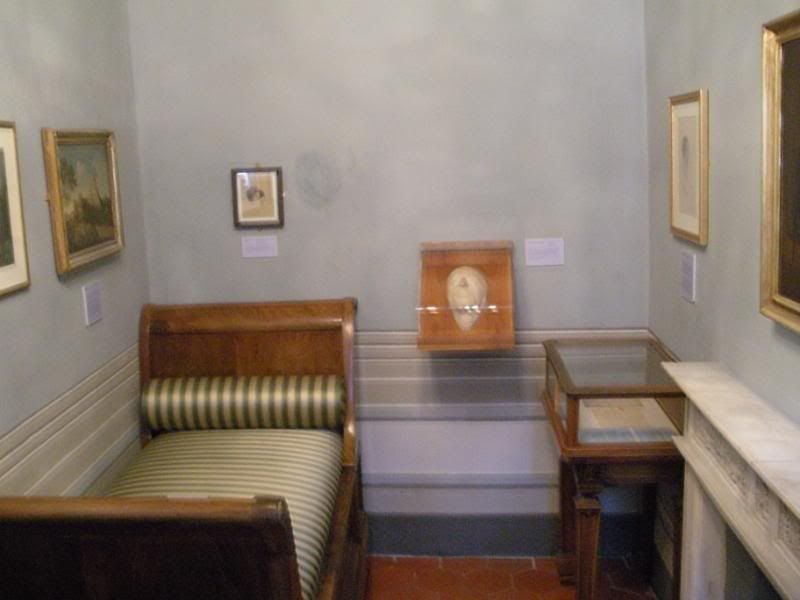 This is the room that Keats lived and died in.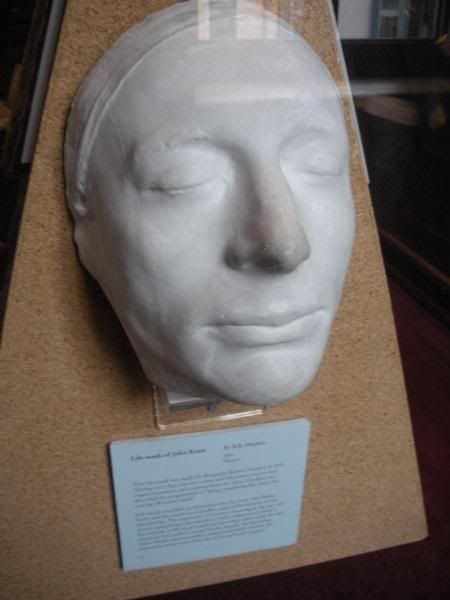 Life mask of Keats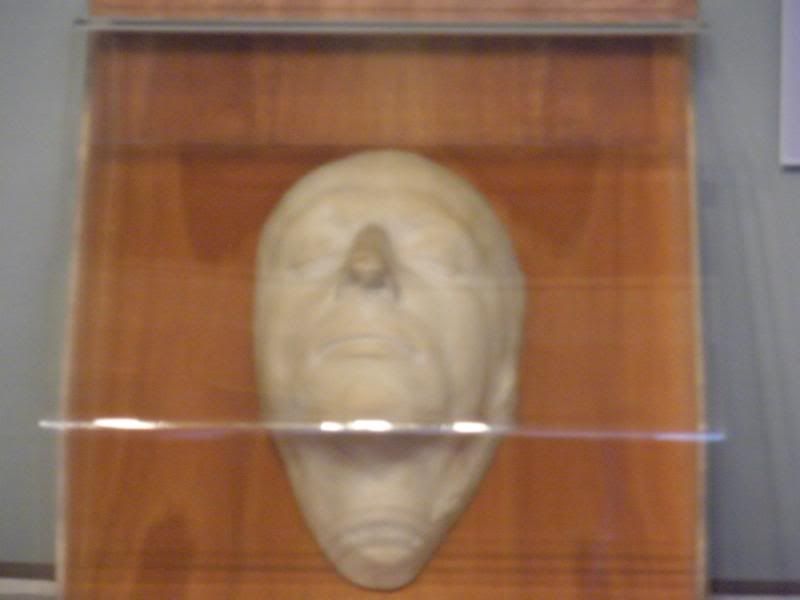 Death mask of Keats
Percy Shelley was also an English poet living and working at the same time as Keats.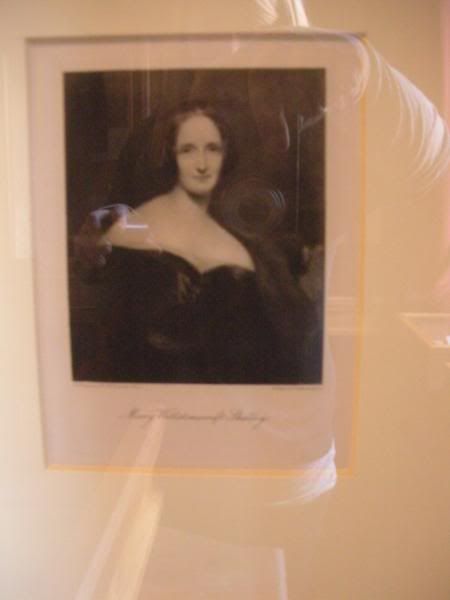 Look mom! Mary Shelley!!! :) She was his second wife.
After the museum we visited the Protestant cemetery located in an area of Rome called Testaccio. The cemetery is the burial site of Keats, Shelley, and an important name of the Risorgimento, Antonio Gramsci.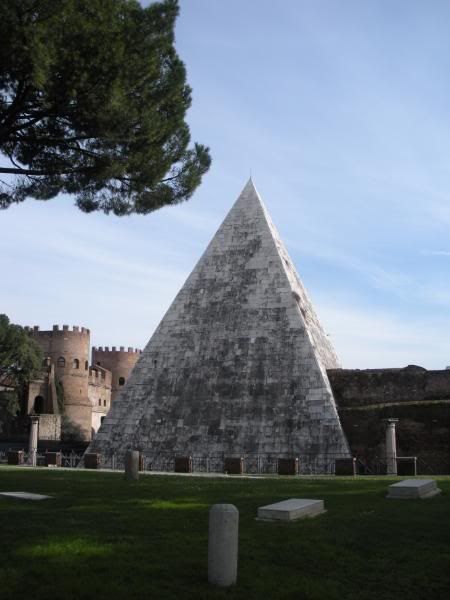 The cemetery contains this 1st century BC pyramid which is the tomb of Cestius, a prominent figure in ancient Rome.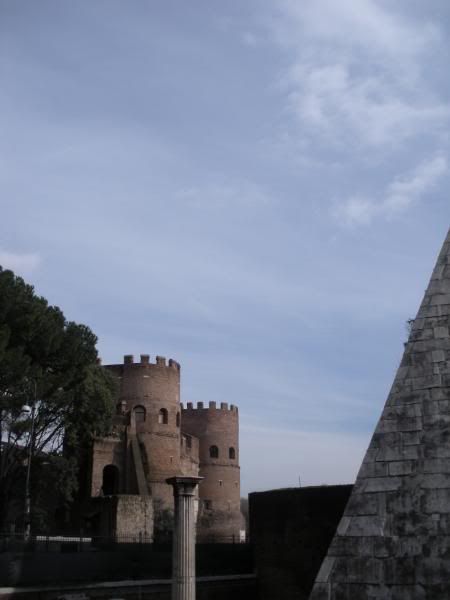 The pyramid is built into a section of the old Aurelian wall which ran around ancient Rome. The wall dates between 271 and 275.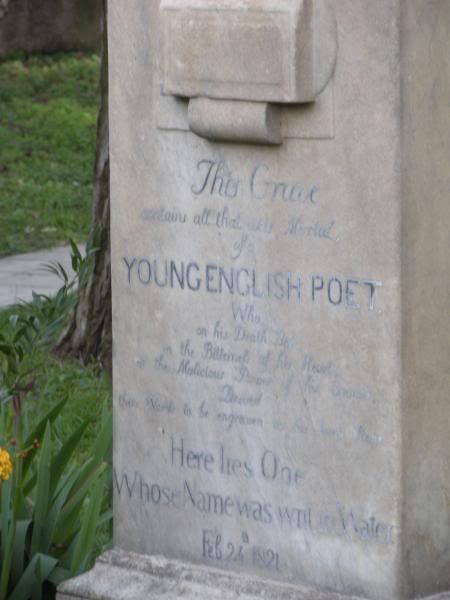 Keats' grave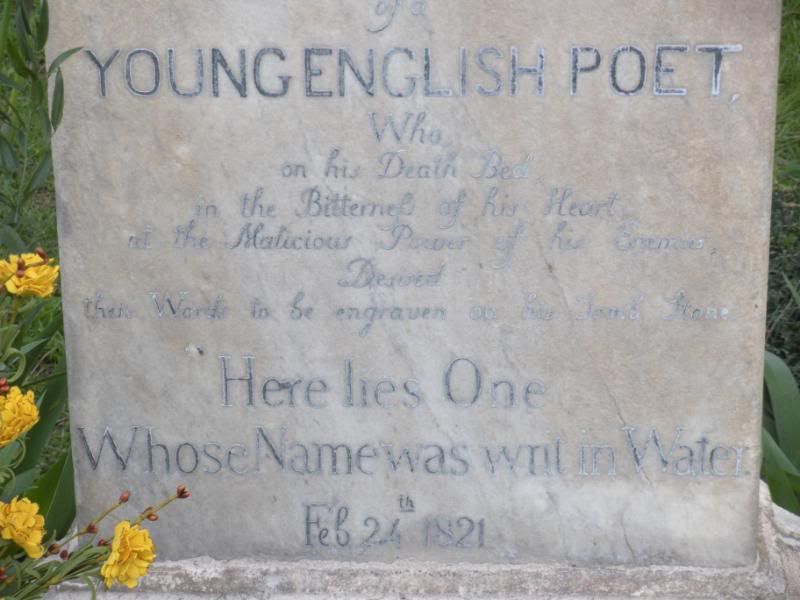 He had time to design his own headstone before he passed, and didn't want to have his name engraved on it. All he wanted was "Here lies one whose name was writ in water," alluding to his early death (he died at 25 without getting the chance to see his name become famous) and his belief that he wouldn't be remembered. The rest was added after his death and against his wishes.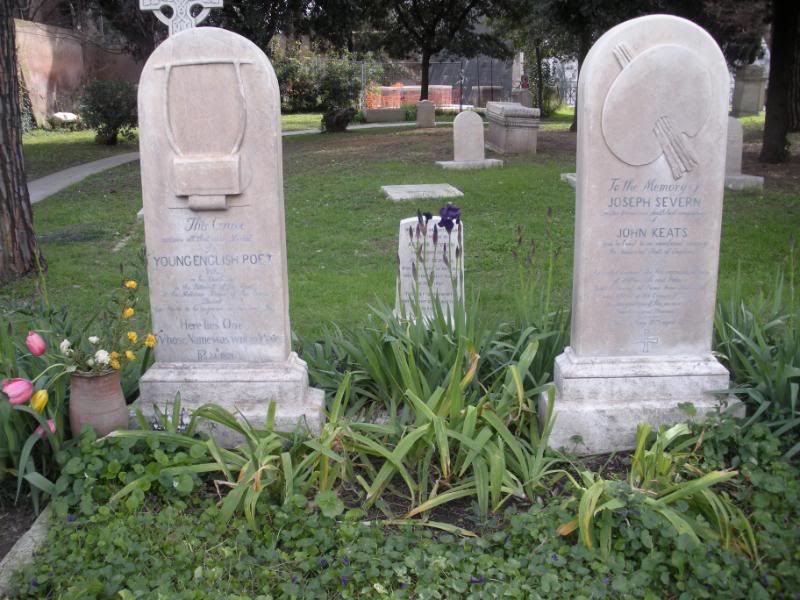 His friend, Joseph Severn, was an artist friend of Keats who lived with him in Rome and took care of him in his final days. Although Severn lived a full life, he requested to be buried next to Keats.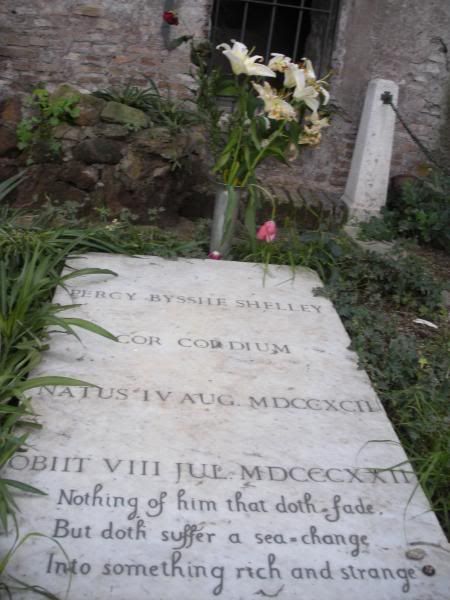 Shelley's grave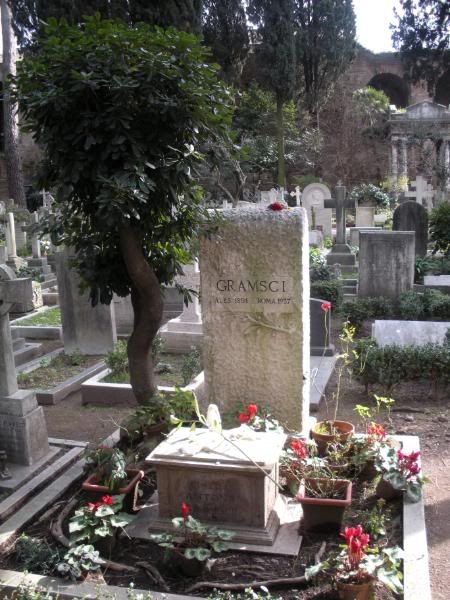 Gramschi's grave. Antonio Gramschi was an Italian philosopher, writer, politician, and political theorist in the late 19th and early 20th century and is credited with founding the Communist Party of Italy. His theories and writings were heavily influenced by Marx and is famous for his concept of "cultural hegemony:"
"It means that a diverse culture can be ruled or dominated by one class in part through common sense, that everyday practices and shared beliefs provide the foundation for complex systems of domination."
It was a pretty great coincidence for us to see Gramschi's grave too, because we will be studying him and his writings next week!
On Tuesday we visited one of the largest hills in Rome, the Gianicolo. It is located in Trastevere about a 5 minute walk from my apartment. I mentioned it in a previous entry some number of weeks ago, when a group of us went for a walk and stumbled upon an amazing overlook of the city. Turns out...we had a site visit planned there! The Gianicolo was relevant to our studies because there are a few equestrian statues there of some very famous people in Italian history related to the Risorgimento. The Risorgimento, meaning the "revival," was the movement in the 19th century towards Italian unification.
Click here to read the Wikipedia article on the Risorgimento!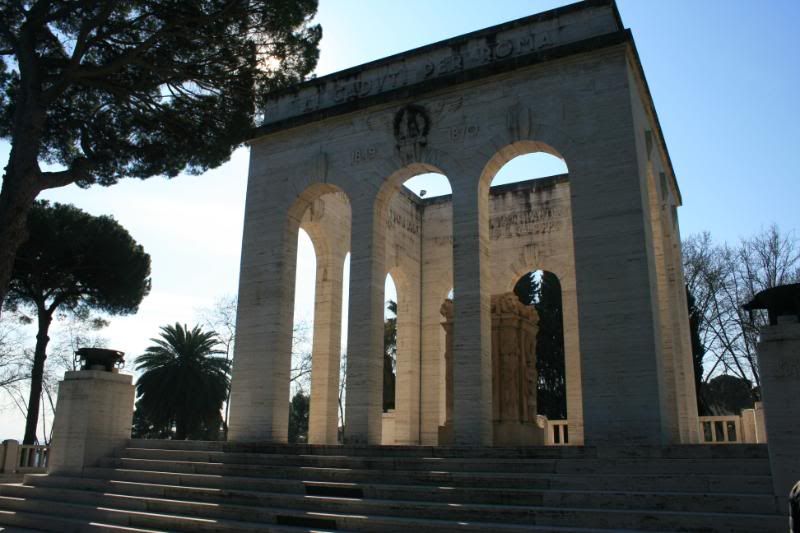 This is the monument dedicated to those who died during the Risorgimento.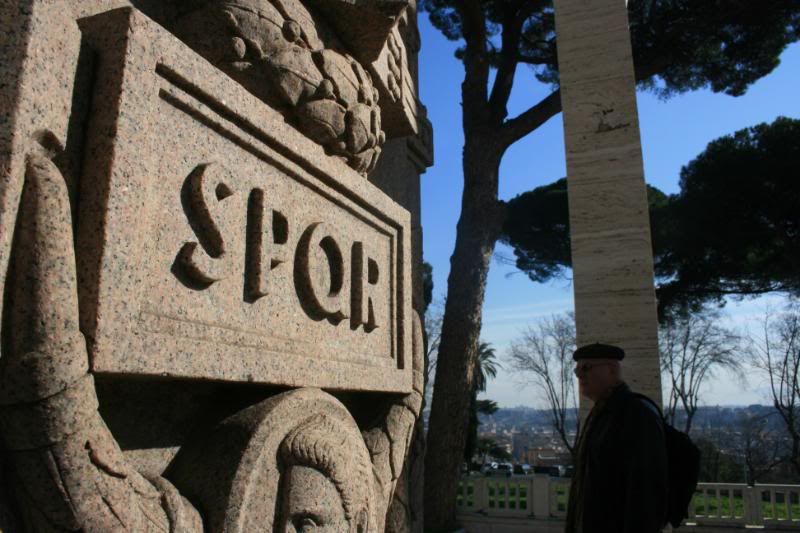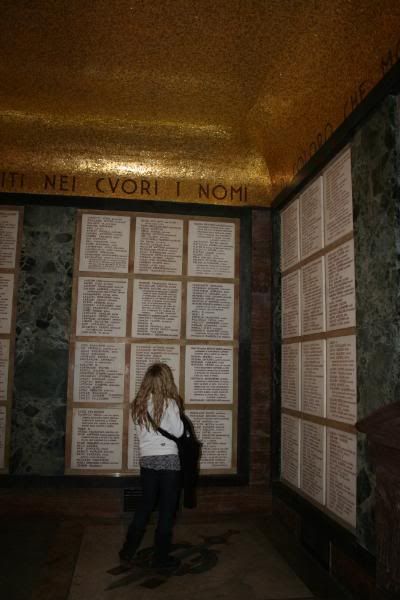 Crypt down below, with plaques listing the names of the Italian martyrs.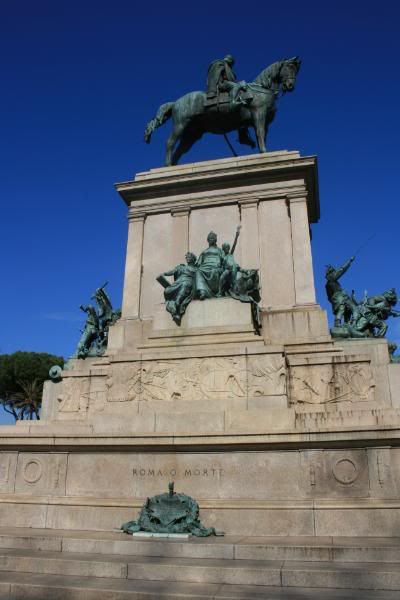 Equestrian statue of Giuseppe Garibaldi, an important political and military figure. He essentially liberated southern Italy from the repressive regime of King Francis II. He eventually surrendered his conquests to Vittorio Emanuele, who eventually became the first king of unified Italy.
Rome or die!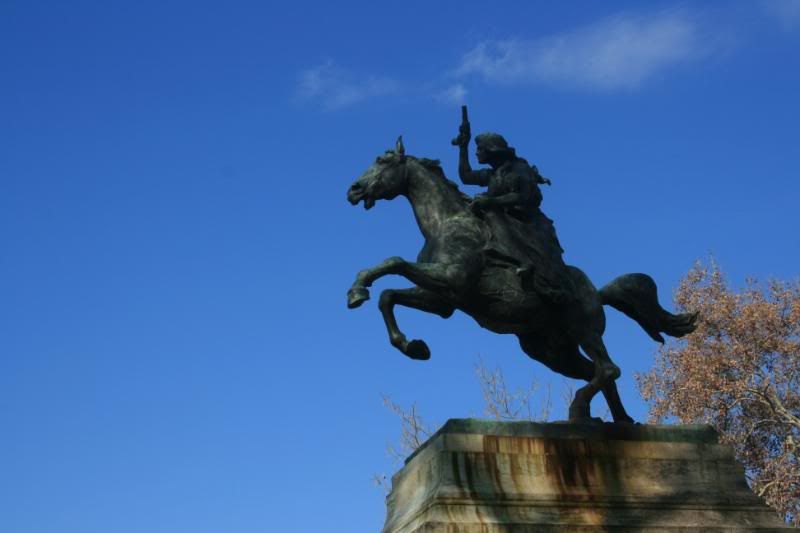 Statue of Anita Garibaldi, Giuseppe's wife. She was Brazilian and an important figure there. This statue was donated to Italy by Brazil.
Here are some views from the Gianicolo: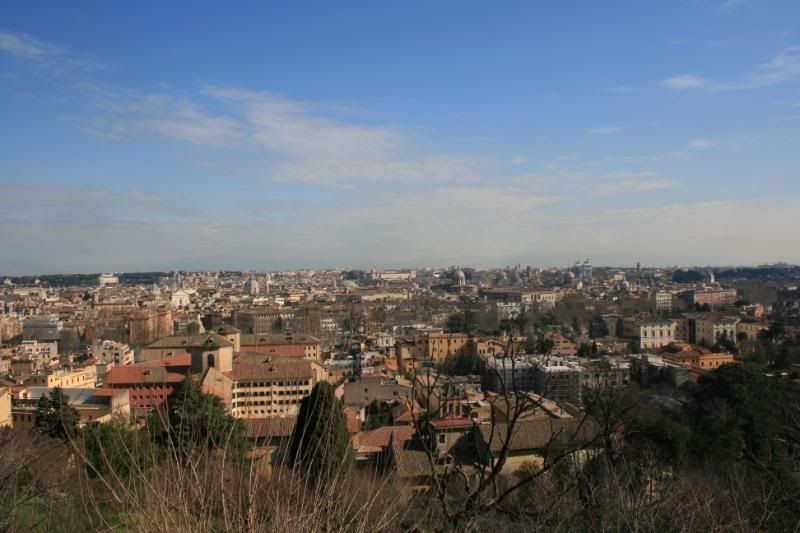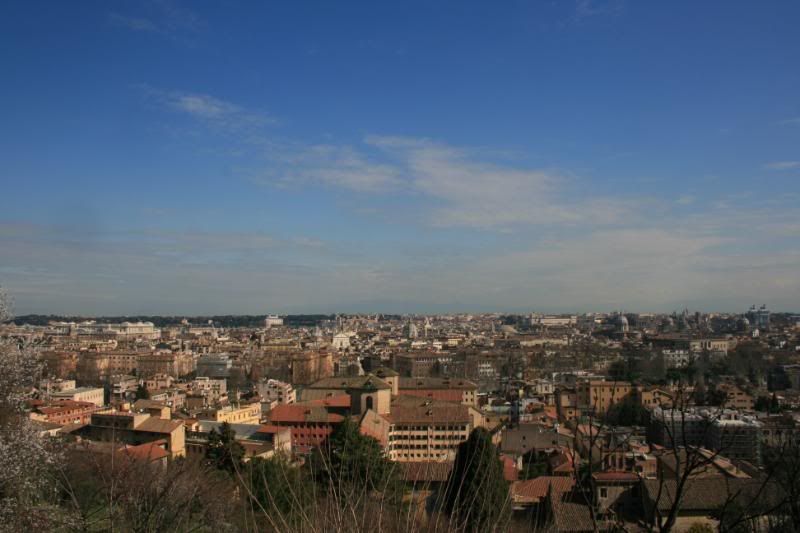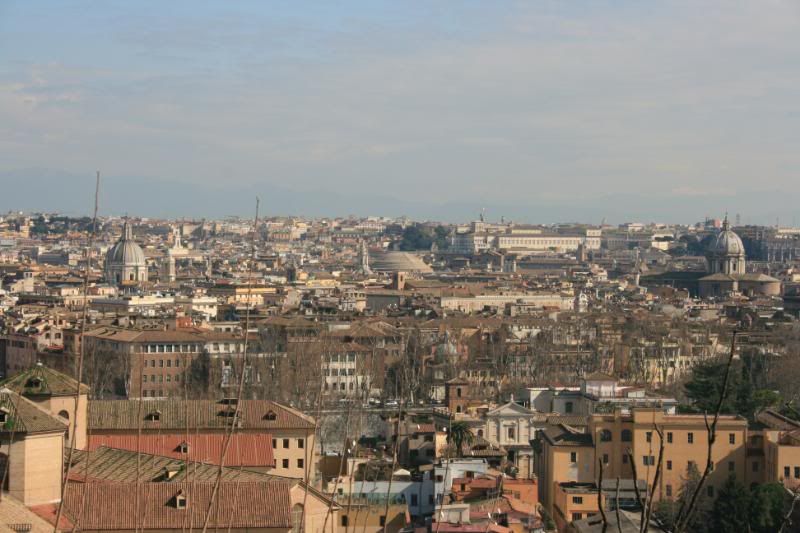 On Wednesday, we visited the Galleria Nazionale d'Arte Moderna. I liked this modern art museum a lot more than the Peggy Guggenheim...there was a lot more works that I was excited about (and, in my opinion, a lot less BS!). The museum was mainly Italian artists, but I also saw a Cezanne, a Monet, and a Van Gogh!
Wednesday night our Italian friend Giulia came over for dinner with two of her friends. I breaded some chicken breast in crumbled bruschetta crackers, roasted some zucchini and eggplant, and made rigatoni in a sun-dried tomato cream sauce. Erin, Christine, and Karleen came over too so it was a huge dinner party. We had a lot of fun! Giulia and her friends are so nice. We are all hoping to get together with her again tonight and go out for a drink.
Ciao for now!